| | |
| --- | --- |
| | BLANES GOLDEN CUP 2009 - MEMORIAL ÀLEX ROS |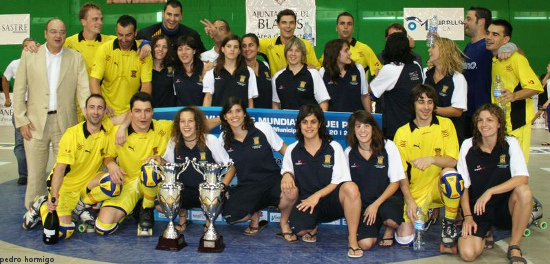 CATALONIA: CHAMPIONS OF MEN's AND WOMEN's BLANES GOLDEN CUP 2009
| | |
| --- | --- |
| | 21-6-2009 |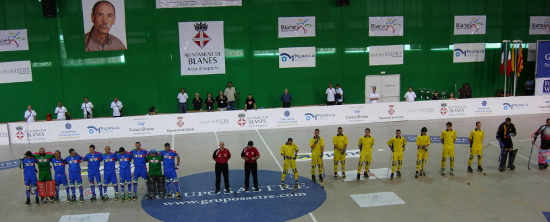 CATALONIA WIN MEN'S BLANES GOLDEN CUP
Catalonia has won Blanes Golden Cup for the fourth time after beating Italy in the great final 4 - 0. Two goals in each half has given the victory to the team of Jordi Camps. With this triumph, Catalonia show their strengh and win a CIRH's recognized tournament.

The match started with both teams playing well and Joan Feixas scored the first goal (minute 6) with a great mid-distance shot. Jordi Carbó increased the distance scoring the second catalan goal, seven minutes before the half time. Ten seconds after the beginning, David Cáceres scored the 3-0 and Roger Rocasalbas closed the final scoreboard (4-0) 10 minutes before the end.
Catalonia: Jaume Llaverola, Joan Manel Grasas, Edu Fernández, Joan Feixas i David Cáceres - Jordi Carbó, Roger Rocasalbas, Xavi Lladó and Francesc Gil.
Italy: Giovanni Fontana, Giovanni Zen, Juan Luis Travasino, Mattia Cocco i Massimo Tataranni - Domenico Illuzzi, Davide Motaran, Enrico Giaretta, Antonio D'Agostino and Andrea Ortogni (ps).
Referees: Antonio Gómez and Luis Delfa. Blue acumulative card: Grasas, Gil, Fernández and Lladó (Catalonia) - Cocco ans Tattarani (Italy). Red card: Tattarani (Italy).
Goals: 1-0 Feixas (min 6); 2-0 Carbó (min 18); 3-0 Cáceres (min 25.30); 4-0 Rocasalbas (min 39.30)
| | |
| --- | --- |
| | 21-6-2009 |
CATALONIA WOMEN ARE THE CHAMPIONS

Catalonia has won Blanes Golden Cup for the third time in a row after beating Germany 3 - 1. Catalans have won the three matches played, showing the high level of Catalan rink hockey, and beating the last two European Champions. Emma Corominas scored first goal with a mid-distance shot and Paula Torner scored 2-0 with a penalty shot. In the second half, Geismann did the 2 a 1 but Anna Gil scored the third Catalan goal for a brilliant Catalan play in the competition. Three participations, three victories.

Catalonia: Laia Vives, Cristina Barceló, Maria Majó, Paula Torner i Emma Corominas - Marta Mompart, Maria Díez, Rosa Tamburini i Anna Gil

Germany: Christina Klein, Nicole Paczia, Anne-Marie Sesterhenn, Laura La Rocca i Beata Geismann - Josy Strunden, Gina Behnke.

Referees: Gerard Gorina and Lluïsa Pérez. Blue card: Strunden and La Rocca (Germany) and Díez and Gil (Catalonia)

Goals: 1-0 Corominas (min 9); 2-0 Torner (p) (min 24); 2-1 Geismann (min 36); 3-1 Gil (min 38)
| | |
| --- | --- |
| | 21-6-2009 |

VIVA HABITAT BLANES GET FINAL THIRD PLACE
Viva Habitat Blanes finished in 3r place of Blanes Golden Cup-Memorial Alex Ros after beating France 7 - 4. The match started really leveled with the first goal of french player Furstenberger, and two goals scored by "Jepi" Selva and Kimi Ridaura for 2-1. Henry equalled the match (2-2) but then Viva Habitat Blanes got scored 3 goals arriving to the halftime with 5-2 in the scoreboard. In the second half Henry scored twice and reduced the gap (5-4). Viva Habitat Blanes played their best hockey then and Rodríguez and Benito decided the match and the third place of Blanes Golden Cup 2009.
Viva Habitat Blanes: Ernest Freixes, Ramon Benito, Kimi Ridaura, Xevi Armengol, Jepi Selva, - Dani Rodríguez i David Plaza.
France: Nicolas Guillen, Sébastien Furstenberger, Guirec Henry, Guilhem Lesca, Anthony Weber, - Kevin Guilbert, Igor Tarassioux, Loïc Le Menn i Olivier Gelebart (ps).
Referees: Josep Gómez and Marc Soler. Blue card: Lesca and Tarassioux (France).
Goals: 0-1 Furstenberger (min 5.30); 1-1 Selva (min 6); 2-1 Kimi Ridaura (p) (min 9); 2-2 Henry (min 11.30); 3-2 Selva (min 19); 4-2 Selva (min 21.30); 5-2 Rodríguez (min 24.55); 5-3 Henry (p) (min 29); 5-4 Henry (min 33); 6-4 Rodríguez (fd) (min 36.30); 7-4 Benito (min 44)
| | |
| --- | --- |
| | 21-6-2009 |

FRENCH WOMEN BEAT BLANES 8-2
France beat Viva Habitat Blanes 8 - 2 in an easy match. Now they keep waiting the unique chance to win the title: if Germany beat Catalonia exactly 4-2. Not easy, but not impossible.
Viva Habitat Blanes: Virginia Díaz, Noemí Dulsat, Ester Artigas, Odette García, Marina Serra - Anna Armero, Judith Barranco, Paula Segura, Patricia Suárez i Txell Rubio (ps).
France: Flora Michoud-Godard, Julie Lafourcade, Sandra Drouhet, Adeline Leborgne, Cindy Laurent - Malvina Fort, Louisiane Corbin, Emilie Couderc i Angela Rodríguez (ps).
Referees: Gerard Gorina and Lluïsa Pérez. Blue card: García (Blane).
Goals: 0-1 Drouhet (min 1.30); 0-2 Laurent (min 6); 0-3 Drouhet (min 10); 0-4 Leborgne (fd) (min 16); 1-4 Artigas (fd) (min 21); 1-5 Drouhet (min 21.30); 2-5 Artigas (min 22); 2-6 Drouhet (min 23.30); 2-7 Fort (min 31); 2-8 Drouhet (min 33)
| | |
| --- | --- |
| | 20-6-2009 |

ANGOLA WIN AND GET FIFTH PLACE
Angola has got the fifth place after beating Austria 11 - 3. Austrian players have scored first (0-2) but players of Angola have showed again the good hockey played with France and Catalonia and have won the match scoring 11 goals. Austria has been fighting till the 3-3 but then Angola have played better.
Angola: Henda Leite, Kirro, Rui André Gomes, Toy Adão, André Centeno, - Coxe, Joy, João Pinto, Zé das Botas, Mamikua i Mito (ps).
Austria: Marco Wagner, Michael Schwendinger, Joachim Mohr, Manuel Parfant, Thomas Haller, - , David Huber, Martin Laritz, Thomas Kessler i Roman Mohr (ps).
Referees: Xavier Galán and Aleix Gorina. Blue card: Kessler (Austria).
Goals: 0-1 J. Mohr (min 3); 0-2 Parfant (min 6); 1-2 Centeno (min 8); 2-2 "Kirro" (fd) (min 12.30); 3-2 "Johe" (min 17); 3-3 Parfant (min 18.30); 4-3 Centeno (min 21.30); 5-3 "Johe" (min 23.30); 6-3 "Johe" (min 29.30); 7-3 "Johe" (min 33); 8-3 Zé das Botas (min 33.30); 9-3 João Pinto (min 34); 10-3 "Johe" (min 35.30); 11-3 Marcio (min 45.30);
MORE NEWS [+]
| | |
| --- | --- |
| | BLANES GOLDEN CUP 2009 |
Blanes Golden Cup 2009 is played from June 18 to 21 in the pavelló municipal de Blanes.
MEN COMPETITION
8th place in 2007 World Championship
7th place in 2005 World Championship
5th place in the 2008 "B" World Championship
9th place in the 2006 "B" World Championship
2006 and 2007 Blanes Golden Cup Champions
2001 Cup Champions
| | |
| --- | --- |
| | 2004 "B" World Champions · 2007 and 2008 Copa America runners-up · 2004, 2005 and 2008 Blanes Golden Cup Champions |
4th place in the 2008 European Championship
5th place in the 2007 World Championship
| | |
| --- | --- |
| | 4th place in the 2007 World Championship · 3rd place in the 2008 European Championship · 4 times World Champions (97,88,86,53) |
WOMEN COMPETITION
| | |
| --- | --- |
| | First appearance in the Blanes Golden Cup |
| | |
| --- | --- |
| | Several players are World Champions · 2006 and 2007 Blanes Golden Cup Champions · 2007 and 2008 Copa America runner-up |
5th place in the 2008 and 2006 World Championship
2005 European Champions
2003 and 2007 European Champions
7th place in the 2008 World Championship
| | |
| --- | --- |
| | FINAL STANDINGS |
Men
1.
Catalonia
2.
Italy
3.
VH Blanes
4.
France
5.
Angola
6.
Austria

Women
1.
Catalonia
2.
France
3.
Germany
4.
VH Blanes
| | |
| --- | --- |
| | MEN COMPETITION |
GROUP A
Pts
P
W
D
L
GF
GA
VH Blanes
6
2
2
0
0
19
2
Italy
3
2
1
0
1
14
4
Austria
0
2
0
0
2
1
28
GROUP B
Pts
P
W
D
L
GF
GA
France
3
2
1
0
1
6
5
Catalonia
3
2
1
0
1
5
5
Angola
3
2
1
0
1
5
6

Thursday 18
16:30
Angola
France
4-2
18:15
VH Blanes
Austria
15-1
20:00
Catalonia
Angola
4-1
Friday 19
16:30
Austria
Italy
0-13
18:15
Catalonia
France
1-4
20:00
VH Blanes
Italy
4-1
Saturday 20
5-6
16:00
Angola
Austria
11-3
Semi1
17:30
France
Italy
0-8
Semi2
19:30
VH Blanes
Catalonia
3-6
Sunday 21
3-4
12:15
VH Blanes
France
7-4
FINAL
18:30
Catalonia
Italy
4-0
| | |
| --- | --- |
| | WOMEN COMPETITION |
| | | | | | | | |
| --- | --- | --- | --- | --- | --- | --- | --- |
| | Pts | P | W | D | L | GF | GC |
| Catalonia | 9 | 3 | 3 | 0 | 0 | 14 | 5 |
| France | 6 | 3 | 2 | 0 | 1 | 14 | 8 |
| Germany | 3 | 3 | 1 | 0 | 2 | 10 | 9 |
| VH Blanes | 0 | 3 | 0 | 0 | 3 | 6 | 22 |

Friday 19
11:00
Catalonia
France
4-2
12:15
Blanes
Germany
2-7
Saturday 20
11:00
Germany
France
2-4
12:15
Catalonia
Blanes
7-2
Sunday 21
11:00
Blanes
France
2-8
16:30
Catalonia
Germany
3-1

| | |
| --- | --- |
| | MEN GOALSCORERS |
10 goals
Massimo Tataranni
(Italy)
7 goals
Ramon Benito
(VH Blanes)
6 goals
Xevi Armengol
(VH Blanes)
Dani Rodríguez
(VH Blanes)
João Vieira "Johe"
(Angola)
5 goals
Domenico Illuzzi
(Italy)
4 goals
David Cáceres
(Catalonia)
Guirec Henry
(France)
Jepi Selva
(VH Blanes)
3 goals
André Centeno
(Angola)
Joan Feixas
(Catalonia)
Fran González
(VH Blanes)
Manuel Parfant
(Austria)
Roger Rocasalbas
(Catalonia)
2 goals
Toy Adão
(Angola)
Mattia Cocco
(Italy)
Antonio D'Agostino
(Italy)
Joan Manel Grasas
(Catalonia)
Sébastien Landrin
(France)
David Plaza
(VH Blanes)
Giovanni Zen
(Italy)
Zé das Botas
(Angola)
1 goal
Jordi Carbó
(Catalonia)
Marcio Fernandes
(Angola)
Edu Fernández
(Catalonia)
Sébastien Furstenberger
(France)
Francesc Gil
(Catalonia)
Kevin Guilbert
(France)
"Kirro"
(Angola)
Loïc Le Menn
(France)
Joachim Mohr
(Austria)
Davide Motaran
(Italy)
João Pinto
(Angola)
Kimi Ridaura
(VH Blanes)
Anthony Weber
(France)
| | |
| --- | --- |
| | WOMEN GOALSCORERS |
7 goals
Sandra Drouhet
(France)
6 goals
Beata Geismann
(Germany)
4 goals
Adeline Leborgne
(France)
3 goals
Yolanda Font
(Catalonia)
2 goals
Ester Artigas
(VH Blanes)
Cristina Barceló
(Catalonia)
Emma Corominas
(Catalonia)
Odette García
(VH Blanes)
Anna Gil
(Catalonia)
Cindy Laurent
(France)
Nicole Paczia
(Germany)
Blanca Soldevila
(Catalonia)
Jana Verdura
(VH Blanes)
1 goal
Maria Díez
(Catalonia)
Simone Firll
(Germany)
Malvina Fort
(France)
Maria Majó
(Catalonia)
Anne-Marie Sesterhenn
(Germany)
Paula Torner
(Catalonia)